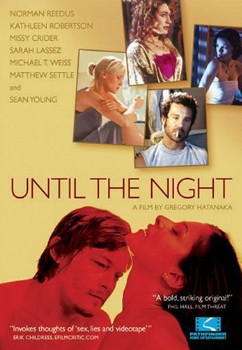 An unsuccessful writer, who leads a desolate life, has an affair with an ex-lover, who is the wife of a once-successful actor, but their relationship pushes them to confusion and obsession.
STORY SYNOPSIS
It's OK to be a little crazy… everyone is…
Robert, (Norman Reedus, The Boondock Saints, Gossip, Floating) a struggling writer, lives life in the moment. Obsessed with his various vices, he loses himself in his fantasies until he has played out his self-absorbed games so long they no longer interest him. What now?
Mina, (Missy Crider, Gigli, Frailty, Powder) radiant and intense, struggles on a daily basis to gain control and find meaning in her life. Jealous of Robert's ability to find inspiration everywhere when she can't find it anywhere, lost in her addictions, it takes everything she has to get out of her self-destructive relationship.
Elizabeth (Kathleen Robertson, Nowhere, Splendor, Beverly Hills 90210) is strong and willful. A successful, young career woman living the perfect public image as her personal life slips toward the brink of disaster. She struggles to stay committed to her marriage to Daniel, a failed actor (Michael T. Weiss, The Pretender, Jeffrey), as it grows increasingly oppressive.
Until the Night examines these individuals' lives that explode with sexual tension, violence, chaos and misunderstandings as each runs through their own spiritual gauntlet and faces their personal demons.
In an emotional head-on collision, ex-lovers, Robert, tired of his hedonistic existence and Elizabeth, lonely and desperate to find someone to be real with, run into each other at a bar one night. Both are grateful to be able to connect to someone. He attempts to recreate the past while holding out hope for a future that includes an ideal relationship with the ideal woman. She finds comfort in his misguided hopefulness. He offers her the illusion of an escapist lifestyle that allows a much needed release from the reality of her marriage and she inspires him to live his life with a little more grace and forgiveness. But how long will this cinematic romantic moment last?
With Fitzgerald-like sensitivity, Until the Night delicately navigates themes of indulgence, sanity, self-loathing and cynical romanticism.
No regrets… Until the Night.