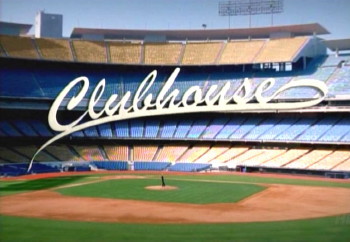 For the first time, Pete Young (Jeremy Sumpter, Peter Pan (2003)) takes a risk — perhaps the only risk of his young life — when he applies for and lands his dream job as a batboy for the New York Empires. The problem is that his single mother, Lynne (Mare Winningham, "The Brotherhood of Poland, N.H."), has no idea what he's up to. Until now, he's been the golden boy while his rebellious older sister, Betsy (Kirsten Storms), has always been in the doghouse. Pete attends a strict Catholic high school where he hangs out with his best friend, Mike (Dan Byrd), who hopes to cash in on his friend's new position in life.
On the job, Pete becomes a member of a new family that includes Conrad Dean (Dean Cain, "Lois & Clark: The New Adventures of Superman"), the team's captain and star third baseman and one of the boy's all-time idols, who takes on the role of an older brother. Also in the clubhouse are Pete's boss, Lou Russo (Christopher Lloyd), a gruff but fair equipment manager who becomes a much-needed father figure; Carlos Tavares (John Ortiz), a rookie who believes that Pete is his good luck charm, and Jose Marquez (JD Pardo, "Lush Life", "The Job"), the Empires' territorial head batboy. Pete is over the moon at being part of his favorite team but he must still balance life at home and life in the big leagues as he faces the moral dilemmas and curve balls that are thrown his way.
Featured Episode
Save Situation
(Season 1, Episode 9)
In the Episode "Save Situation" Michael T. Weiss plays Jackie Tambler, a real estate investor who tries to help his old team out by investing their money in a hotel project in Malaysia. The team's bat boy (Pete) becomes suspicious when he sees the equipment manager passing money to Jackie Tambler in the Clubhouse tunnel and informs the team's players who question the equipment manager … The team and the bat boys show up at Jackie's investors meeting but become distraught later when Pete's mother shows up at the conference room where the meeting was held to find that it has been cleaned out and it looks as if Tambler has run off with all their money.
When Jackie returns to the clubhouse to dispel rumors that he's a crook and tells them they can expect a huge return on their investment, they all demand that he return their money so the team hero Conrad Dean (played by Dean Cain) secretly buys all of his teammates shares.