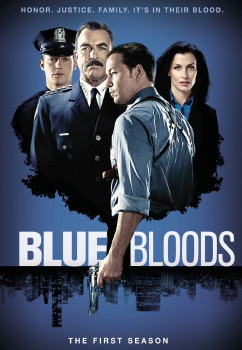 BLUE BLOODS is a drama about a multi-generational family of cops dedicated to New York City law enforcement. Frank Reagan is the New York Police Commissioner and heads both the police force and the Reagan brood. He runs his department as diplomatically as he runs his family, even when dealing with the politics that plagued his unapologetically bold father, Henry, during his stint as Chief. A source of pride and concern for Frank is his eldest son Danny, a seasoned detective, family man and Iraq War vet who on occasion uses dubious tactics to solve cases with his loyal and tough partner, Detective Jackie Curatola. The Reagan women in the family include Erin, a N.Y. Assistant D.A., who also serves as the legal compass for her siblings and father, and single parent to her teenage daughter Nicky; and Linda, Danny's supportive wife. Jamie is the youngest Reagan, a recent grad of Harvard Law and the family's "golden boy." Unable to deny the family tradition, Jamie has decided to give up a lucrative future in law and follow in the family footsteps as a cop.
Featured Episodes
Little Fish
(Season 1, Episode 11)
Danny and Jackie investigate the murder of a high-end escort found floating in the river. Meanwhile, Frank vows to bring a killer to justice when a missing boy's remains are found from a case that he was emotionally invested in 25 years ago.
Hall of Mirrors
(Season 1, Episode 13)
When an undercover counter-terrorism agent is shot, Frank assigns Danny to the case because he is the only officer he can trust given the victim's involvement with infiltrating a sleeper cell; however, Danny is sworn to secrecy as to not disrupt the police activity in that cell.
Cellar Boy
(Season 1, Episode 21)
Neighbors of the Reagans are murdered and their son becomes the prime suspect. Jamie is convinced he's being pursued by the Blue Templar when his gun goes missing.
The Blue Templar
(Season 1, Episode 22)
In his attempt to expose the Blue Templar, Frank chooses to bypass Internal Affairs after a drug bust indicates dirty cops are involved.