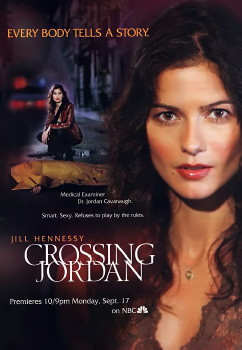 Jill Hennessy (NBC's "Law & Order") marked her return to series television last season starring in TV's top rated new drama for 2001-2002 as Dr. Jordan Cavanaugh, a sexy, smart and fearless Boston medical examiner with a checkered career — and a penchant for going beyond the call of duty to investigate crimes.
After striking out in Los Angeles, the headstrong Jordan returned to her Boston hometown and her former job with the Massachusetts State Coroner's Office, reuniting with her ex-cop father, Max (Ken Howard, "The White Shadow"), who's still haunted by the unsolved murder of his wife (who was Jordan's mother). This tragic incident shapes Jordan's empathy with the voiceless victims she encounters as she channels her inner anger towards piecing together complex murder cases that have been hidden, shoved aside — or conveniently forgotten.
Jordan gains a measure of support from her erratic boss, Dr. Garret Macy (Miguel Ferrer, "Traffic") — who has his own personal issues. Other colleagues helping her on the job are forensic entomologist "Bug" (Ravi Kapoor, "Gideon's Crossing"), grief counselor Lily Lebowski Kathryn Hahn) and criminalist Nigel (Steve Valentine, "The Muse").
Lorraine Toussaint ("Any Day Now") joins the cast in the sophomore season (2002-2003) as Jordan's nemesis, Elaine Duchamps, a sophisticated medical examiner brought in by the DA's department. Also returning is Jerry O'Connell ("Jerry Maguire") as detective Woody Hoyt, a naïve Wisconsin native who's determined to do his job properly while earning Jordan's trust in the process.
Featured Episodes
Ockham's Razor
(Season 2, Episode 11 / 01.06.2003)
A PERSONAL GRUDGE TESTS GARRET'S OBJECTIVITY AS HE INVESTIGATES HIS CHIEF RIVAL
The investigation into the murder of a Boston woman hits close to home for Garret (Miguel Ferrer) because the prime suspect in the homicide — the victim's husband — is a well known criminal forensics expert (guest star Hart Bochner) who has publicly second-guessed the chief M.E.'s work. Personal feeling aside, Garret pushes Det. Woody Hoyt (guest star Jerry O'Connell) to look beyond his nemesis for other possible suspects. Meanwhile, the reappearance of a long forgotten Cavanaugh home movie brings a dangerous family secret to light when Jordan (Jill Hennessy) uncovers her mother's image on the film, forcing Max (Ken Howard) to reconcile a past decision. Michael T. Weiss, Steve Valentine, Ravi Kapoor, Kathryn Hahn and Lorraine Toussaint also star. TV-14
Pandora's Trunk Part 1
(Season 2, Episode 21 / 04.28.2003)
JORDAN'S PAST COMES BACK TO HAUNT HER, WHILE WOODY ATTEMPTS TO SOLVE A TRIPLE HOMICIDE IN FIRST OF A TWO-PARTER; MICHAEL T. WEISS GUEST STARS
Pushing for a promotion, Detective Woody Hoyt (guest star Jerry O'Connell) is helped by Garret (Miguel Ferrer), Peter (Ivan Sergei), Nigel (Steve Valentine) and Bug (Ravi Kapoor) in his attempt to solve a triple homicide involving three victims with seemingly no connections to each other. However, when this crack investigative team learn that the victims shared an elegant meal along with a fourth mysterious friend shortly before their final hour, they set out to locate the missing diner. Elsewhere, a mysterious phone call from a private investigator regarding Herman Redding's missing 1966 Ford Fairlane sends Jordan (Jill Hennessy) delving back into her mother's murder – leading to another chance meeting with her brother (guest star Michael T. Weiss, "The Pretender"). Kathryn Hahn also stars. TV-14
Pandora's Trunk Part 2
(Season 2, Episode 22 / 05.05.2003)
BACK ON THE HUNT, JORDAN INVESTIGATES NEW LEADS IN HER MOTHER'S MURDER IN SEASON FINALE WITH GUEST STAR MICHAEL T. WEISS
In the conclusion of the season-ending two-parter, Jordan's (Jill Hennessy) quest for her mother's killer leads her to the trunk of an abandoned Ford and the 23-year-old skeleton of a murdered Boston detective. When the firestorm created by this discovery prompts Garret (Miguel Ferrer) to remove the vigilant M.E. from the case, she pushes forward on her own in the search for answers –and discovers more of her father's (Ken Howard) demons in the process. Meanwhile, Woody (Jerry O'Connell) takes over the search for the cop-killer and gains an unlikely partner in the chief of police (guest star Edward Hermann "The Emperor's Club"). Michael T. Weiss ("The Pretender") also guest stars as Jordan's brother. Kathryn Hahn, Steve Valentine, Ravi Kapoor and Ivan Sergei also star. TV-14
Oh Brother, Where Art Thou
(Season 3, Episode 1 / 06.04.2004)
JORDAN SEARCHES FOR EVIDENCE TO VINDICATE HER FATHER
Jordan (Jill Hennessy) searches for evidence to clear her father Max (Ken Howard), who stands accused of murdering the chief of police. Hindered by Max' disappearance, Jordan relies on a suspended Woody (Jerry O'Connell), who works with Detective Capra (guest star Arija Bareikis) to help her track down her missing brother James (guest star Michael T. Weiss, "The Pretender") whom she believes to be the key to solving the homicide. Meanwhile, Garret (Miguel Ferrer) butts heads with former romantic partner D.A. Walcott (guest star Susan Gibney, NBC's 'Happy Family") who has commandeered the morgue staff as part of the murder investigation. Kathryn Hahn, Steve Valentine, Ravi Kapoor and Ivan Sergei also star. TV-14