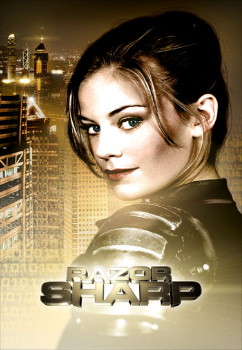 Story Synopsis
Impenetrable fortresses, SWAT trained security forces, the occasional piece of malfunctioning gear; it's all in a day's work for corporate thief Veronica Sharpe (Cassidy Freeman). But business turns anything but usual when she's hired by her underworld boss Rory Dex (Michael T. Weiss) to steal an exotic codebreaker from a high-security skyscraper. However, the one contingency Veronica could never anticipate is the strain the job will place on her morality and skill once she's confronted with the dark reality of the codebreaker itself.
Far from hardware or a digital code, it is a twelve year-old girl (Skye McCole Bartusiak). Isis is the prisoner of corporate devils, held hostage inside the building's fortified vault. Now, not only must Veronica wage war against the skyscraper's lethal security detail in order to escape, but she is forced to make the most critical decision of her life: whether to hand over this flesh and blood score to Dex, or to protect the orphaned girl and become a most unlikely hero.
Set in a near-future world where corporations strangle the globe, RAZOR SHARP blends a surprising amount of humor and action to create an experience that has been called a mix between DIE HARD and BUFFY THE VAMPIRE SLAYER.
© 2006, M-Pact Films
Information provided by writer/director Marcus Perry and Used with Permission
MARCUS ON MICHAEL
Michael's character was a tough balance to hit. On one level he's playful and charming, but on the other he's completely amoral. What makes Dex frightening isn't the fact that he's a psychopath or some hulking brute, it's that he legitimately can't figure out why Veronica Sharpe has such a problem with kidnapping a child. To him, Isis is just another bargaining chip; a quick paycheck. That lack of a moral barometer is what I found both scary and fascinating about Dex, and it's something Michael was able to pounce on.
Anyone familiar with Michael's body of work knows he's a total chameleon. He can get under the skin of anybody you dream up, and take it for a walk in incredibly original ways. When it came to Dex, this was no different. It was always our intention to make him a kind of Hollywood agent of the criminal underworld, but Michael took it leaps and bounds further, coloring the dialogue with a Billy Idol-esque accent, and transforming him into a metro-sexual villain. It was an amazing performance to watch, and as a first time director, a real gift to the production. He made Dex so much his own, it's nearly impossible for me to picture the film without him.
As far as landing Michael for the role goes, I have my casting director Brad Gilmore to thank for that. Brad had auditioned Michael for a few other films, and he was the first name suggested for Dex. Needless to say, I was thrilled at the prospect, but thought there was no way in the world we'd get him. After all, our production was being done on 90% favors, and this guy is THE PRETENDER! So we took a chance, and I forwarded a copy of the script along with a comprehensive art book that I had put together to Michael, and he really got a kick out of it. Once he signed up for the project, I knew we were on the way to making something really fun and unique.
Wizard World Film Festival, Dallas Texas:: November 10-12, 2006
As part of the prize for winning, RAZOR SHARP was screened in Los Angeles over the weekend of March 16-18, 2007 at the Staples Convention Center when Wizard World began its 2007 tour.
Link to Wizard World article
Additional information can be found Here