| | | | |
| --- | --- | --- | --- |
| YEAR | RESULT | AWARD | CATEGORY/RECIPIENT(s) |
| 2008 | Nominated | Drama Desk Award | Outstanding Featured Actor in A Play for: "Scarcity" |
| 2006 | Won | Best of the Midwest Awards | Best Supporting Actor for: "Iowa" |
| 1999 | Nominated | Golden Satellite Award | Best Performance by an Actor in a Television Series – Drama for: "The Pretender" |
| 1998 | Nominated | Golden Satellite Award | Best Performance by an Actor in a Television Series – Drama for: "The Pretender" |
| 1998 | Nominated | Saturn Award | Best Genre TV Actor for: "The Pretender" |
| 1988 | Won | Soap Opera Digest Award | Outstanding Comic Performance by an Actor: Daytime for: "Days of Our Lives" |
The Drama Desk Award
Awarded for
Excellence in theatre
Presented by
Drama Desk
Country
United States
First Awarded
1955
Official website
The Drama Desk Award, created in 1955, is an award recognizing shows produced off-Broadway, off-off-Broadway, and for legitimate not-for-profit theaters, in addition to Broadway productions. Previously there had been only the Tony Awards, which focused solely on Broadway shows, ignoring the hundreds of other productions mounted in New York City each year.

The Satellite Award
The Satellite Awards are an annual award given by the International Press Academy. The awards were originally known as the Golden Satellite Awards.
Upholding the organization's creed, the IPA's annual SATELLITE Awards gala honors the most outstanding achievements in the fields of cinema, television and interactive medias.
One of the primary goals of The SATELLITE Awards show is to celebrate new works from both established and developing independent filmmakers, giving them access to an audience that would otherwise never receive exposure to their creativity.
In addition to film, The SATELLITE Awards gala celebrates the most innovative offerings in television, both network and cable, in addition to the vanguard of interactive arts. Speed, pacing and innovation are the operative words, allowing us to celebrate technical as well as artistic achievements.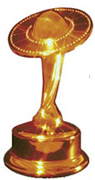 The Saturn Award
Awarded for
Best in science fiction, fantasy and horror film and television
Presented by
Academy of Science Fiction, Fantasy & Horror Films
Country
United States
First awarded
1972
Offical Website
The Saturn Award is an award presented annually by the Academy of Science Fiction, Fantasy & Horror Films to honor the top works in science fiction, fantasy, and horror in film, television, and home video. The prestigious Saturn Awards were devised by Dr. Donald A. Reed, who felt that films within those genres were never given the appreciation they deserved. The physical award is a representation of the planet Saturn, surrounded with a ring of film. The award was initially, and is still sometimes loosely referred to as a Golden Scroll. Similar to other awards, like the Oscars, the Emmys and the Grammys, the Saturn Awards are voted on by members of the presenting Academy. There are also special awards for lifetime achievement in the field.

Soap Opera Digest Award
The Soap Opera Digest Awards are an award show held by the daytime television magazine Soap Opera Digest. The awards were founded in 1984 to replace the less-lavish Soapy Award; those award shows had run since 1977. The Soap Opera Digest Awards are meant to promote excellence in the soap opera genre and are decided by the fans who read the magazine. The statue itself is currently made of crystal, and is in the shape of a heart.