Michael's Character:
Giles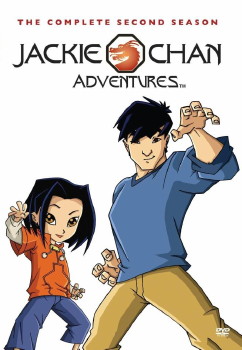 Jackie Chan Adventures, starring international superstar Jackie Chan, combines eye-popping "anime-style" animation with fast-paced comedy to create an action-adventure series like no other. The show kicks off with expert archeologist Jackie being recruited by a covert government agency to uncover an ancient conspiracy. Taking his feisty 11-year-old niece along for the ride, Jackie's daring mission involves locating twelve talismans, scattered around the world, each one possessing amazing powers. This dangerous assignment sends Jackie into a pulse-pounding race against time, as a crime ring of martial arts experts try to stop him at every turn.
Featured Episode
Pleasure Cruise
(Season 2, Episode 30 / 02.09.02)
Jackie is escorting an artifact to Hong Kong on a cruise ship, and invites Uncle, Jade and Tohru along. Tohru asks to bring a guest. Just as the ship is about to get underway, Uncle balks that the guest is Tohru's Mother! Meanwhile, thieves on board plan to steal the artifact Jackie is escorting. Taking the ship hostage, the thieves manage to break into the vault but damage the ship, causing it to start to sink. Jackie and Jade 'save' the ship with the Healing Tailsman, while Mom and Uncle stop the bad guys from escaping.