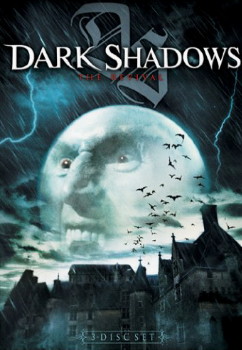 DARK SHADOWS, television's legendary Gothic suspense drama, is back in a lavishly updated version. Originating as a daytime series (1966-71), the spooky cult classic was reborn in 1991 as a critically acclaimed primetime mini-series with an all-new cast.
An intriguing blend of romance, horror, and the supernatural, DARK SHADOWS revolves around the mysterious and wealthy Collins family.
Passions run red in this timeless horror soap opera about a beautiful governess, Victoria Winters (Joanna Going), who arrives at the isolated, coastal mansion of Collinwood to tutor a disturbed child for an accursed family. When she falls in love with Barnabas Collins (Ben Cross), a handsome and mysterious heir from England, a series of horrific and inexplicable attacks grips the town of Collinsport.
Step inside the romantic but deadly world of "DARK SHADOWS" where love devours its victims and age-old secrets live to haunt eternity. A complete season of twelve heart-pounding episodes of witchcraft, seduction and revenge will have you thirsting for more … with every bite.